What does a medical transcriptionist do?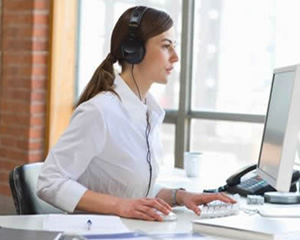 Medical Transcriptionist's, also known as an MT, duties involve listening to a doctor or other healthcare professional dictating medical reports into a digital system and then the transcriptionist will accurately transcribing them into a properly formatted and official medical document.
Every time an individual visits the doctor, whether it's an emergency visit, a stay in the hospital, a regular routine checkup, or a specialist appointment for a specific problem, there is an official record made of the visit. The doctor will dictate this into an audio, which you then transcribe into a medical report to be placed either as a hard copy or digital copy into the patient's records. A medical transcriptionist can work at home, a doctor's office, or in a hospital setting.
Can I work from home?
Yes, you can absolutely work at home as a medical transcriptionist, but before you can do this you need to have the right knowledge and medical transcription training. If you're going to work at home, self-discipline is an important skill required. You have to be able to get out of bed every morning and have to separate your home life from your work life. Many medical transcriptions work from their homes as independent contractors or home-based employees.  Medical Transcription is becoming increasingly popular as a work-from-home profession. The convenience of working at home is appealing to many people and most value the opportunity to stay close to their young children and still support their family full- or part-time.
Is medical transcription a good career choice for me?
Being a medical transcription can be a rewarding career for many, but it's not for everyone. Medical transcription can sound easy, but it takes a dedicated person to be a medical transcriptionist. It is a career that requires careful attention to detail, a careful listener, good writing skills and grammar, doing repetitive tasks, managing your time well, etc. Make sure and see if this is something that fits your skills before tackling on this career.
---
Having the proper skills before getting started will help ensure your success. Below is list of skills you need to learn and/or already know to become a medical transcriptionist (having past experience in data entry, computer, or secretarial work is a plus and is a start to achieving the skills required).
Skills required for a medical transcriptionist:
Excellent spelling, grammar, and punctuation skills.
Good listening skills.
Have basic computer skills.
Excellent research skills (look up words when needed).
Medical terminology (you will need to take a medical transcription course online).
Must be detail oriented.
Ability to work unsupervised and stay motivated.
Ability to maintain work deadlines.
Ability to sit and focus for long periods of time.
Ability to type (your speed will increase with experience).
How fast do medical transcriptionists need to type?
There's no official typing speed that you have to have to become a medical transcriptionist, but you should at least start off typing 45 words per minute. Speed is not a big factor when starting out, but if you're getting paid per line or production then you want to at least type 50 to 60 words per minute. Most medical transcriptions type 65 to 75 wpm. You can achieve this after constant practice. Speed automatically improves with time and practice, it did for me. I always looked at the keys when I first started out. If you can only see me now!
Will speech recognition take over medical transcription?
There have been people who have been worried about voice recognition replacing the medical transcription industry for a while now. The speech recognition software can't think, analyze, or make conclusions of its own, but on the other hand, a medical transcriptionist can to deliver a complete medical record. VR software is nowhere near finished and a lot of doctor's don't have time to learn a new system. Many doctors also complain about the accuracy of the transcription and the quality. It's very time consuming for doctor's to see patient's, dictate reports, and proofread everything they're writing. Many doctors talk to fast, eat lunch while dictating, have accents, etc. and are too busy to sit down in front of a computer to carefully dictate.
VR software changes are happening slowly and you can pretty much rely on it taking a very long time for it reach a point where it could be a danger to us transcriptionists. But it's part of technology and will still be around. It's better to educate yourself and learn new technology as it may help you in the future.
Will outsourcing replace medical transcriptionists?
While it is well-known that there is a definite shortage of qualified medical transcriptionists in the US, some transcription services, healthcare facilities, and doctors are now getting their transcription work done offshore. They're using these offshore accounts because they are much cheaper. Can you believe these outsourced transcriptionists often work for a fraction of what transcriptionists are paid in the US?
But there is a lot of concern about the quality of the finished transcriptions, since they're not native English-speakers. Many outsourced transcriptionists sometimes are less-qualified and don't have the correct education to do the job with reasonable accuracy. They also lack occupation-specific training in medical transcription. Many foreign medical transcriptionists who can speak English are not familiar with American expressions and/or the slang doctors often use, and can be unfamiliar with American names and places. There are other concerns about confidentiality and accountability. Some are speculating that the outsourcing of medical records may eventually be deemed to not be HIPAA-compliant.
Conclusion about medical transcription outsourcing:  No one can foresee the future of medical transcription, but I don't think there's any reason for any US-based medical transcriptionist to assume that outsourcing is destined to take over all medical transcription in the USA. There are still a lot of transcription services and doctors that are definitely not comfortable having their transcription done overseas. While others only think of cutting costs and offshore transcription is usually cheaper, many definitely prefer to hire their transcriptionists to be US-based as they believe the quality of work is better.